Constructing Our Future History
Clayborn Temple
A Sacred Place in the Heart of Memphis
A stately Romanesque Revival church just south of Beale Street in Memphis, Tennessee, Clayborn Temple began life with a white congregation in 1892 as Second Presbyterian. In 1949, the church was sold to an African-American congregation, who changed the property's name to Clayborn Temple in honor of a local African Methodist Episcopal (AME) bishop.
During the Sanitation Workers' Strike of 1968, civil rights and labor activists organized together inside Clayborn Temple. The "I AM A MAN" signs created by the congregation's pastor with his own printing press have since become a universal symbol for human rights and human dignity. Today, the "I AM A MAN" signs remain relevant everywhere, from protests close to home in Ferguson to halfway around the world in Egypt.
Clayborn Temple closed in 1999 and fell into disrepair, but it has since reopened. The building hosts special events like weddings and live performances, is once again home to a congregation, and is also a meeting space for local and national organizations. Most importantly, the community members and preservation organizations who have kept Clayborn Temple alive are dedicated to preserving its legacy as the site where activists first organized around the idea that poverty and race were inextricably bound. (c/o :2018 National Trust for Historic Preservation).
Clayborn Temple reborn currently serves as a space for restoration, artistic production, social innovation, economic justice, and community transformation. The space works to restore Clayborn Temple's historic space in a way that both honors it's architectural past and enables its programmatic future. Clayborn Temple works to re-engage the social mission that bears witness to the reality of God's love and that honors the dignity of their neighbors. And lastly, Clayborn Temple works to renew Clayborn to the surrounding community by partnering with local neighbors to see South City become a thriving community for all of its residents.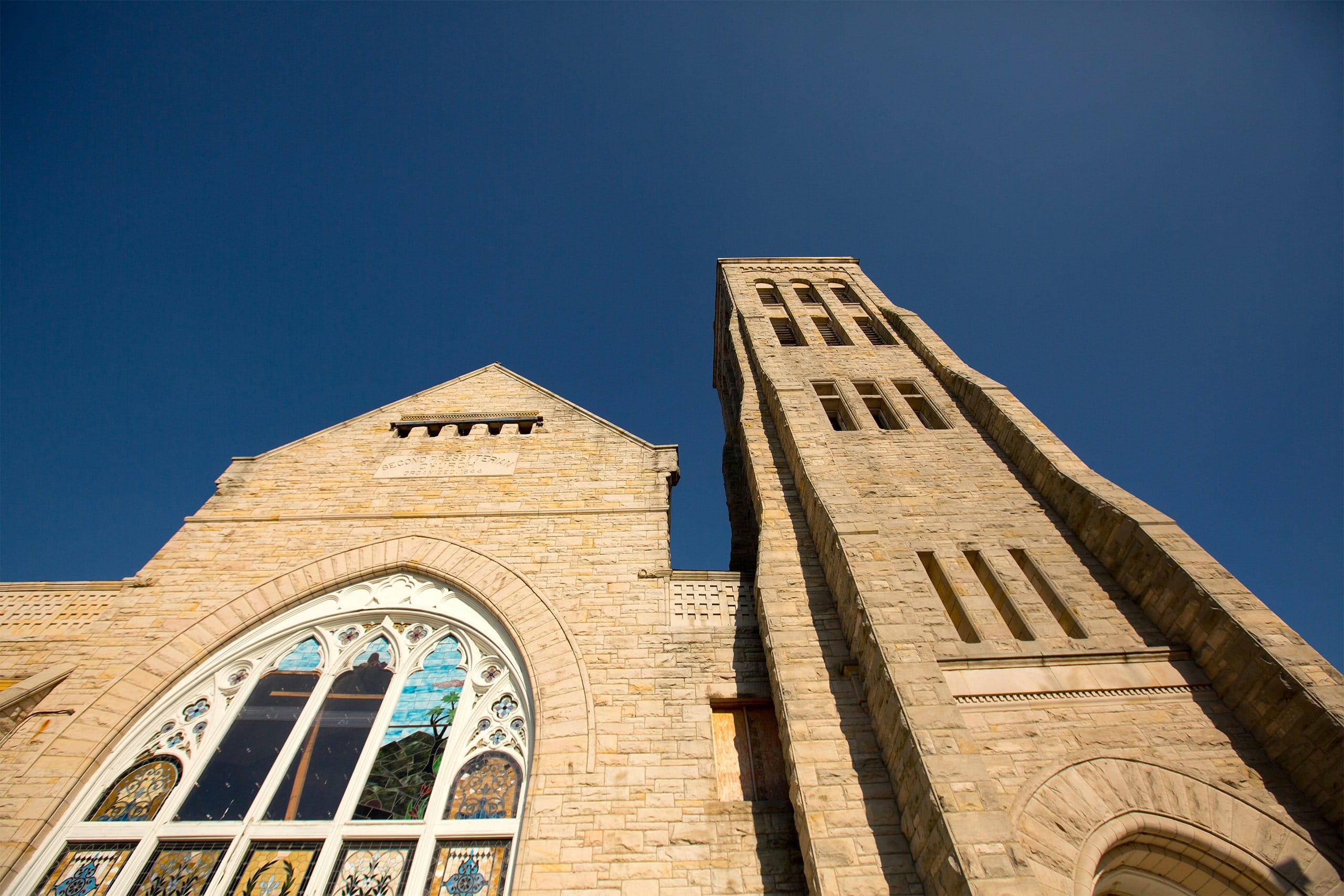 Echol Cole and Robert Walker
Echol Cole and Robert Walker were sanitation workers employed by the city of Memphis. Like most of the city's sanitation workers in the 1960s, Cole and Walker were African American and endured horrific working conditions.
On February 1, 1968, Cole and Walker took shelter from the rain in the back of their work truck. When the compactor suddenly malfunctioned, both men were crushed to death. The city gave each family one month's payment and $500, but the families were left destitute as their primary wage earners were now gone. These avoidable fatalities sparked more resentment in the city's African American community, as sanitation workers and union organizers had long lobbied the city to enforce standard safety regulations and instate functional equipment. When the city refused to fairly accommodate these demands, nearly 1,300 employees from the Memphis Department of Public Works organized in protest. The deaths of Echol Cole and Robert Walker were the catalyst for the 1968 Sanitation Workers Strike. Strikers were reacting to decades of exploitation, and their protest marked an early fight for financial justice.
1968 Sanitation Workers Strike
In the 1960s, sanitation workers in Memphis were almost exclusively African American. Memphis had a long history of segregation and classism in the wake of Jim Crow, and the evident work disparities of black sanitation employees in comparison to that of their white counterparts were indicative of the city's racial inequities. Many lived in poverty. Paid only slightly above minimum wage for a ten-to-twelve-hour workday, African American sanitation workers often took on second jobs to supplement their income or appealed to welfare and public housing.
African American sanitation workers were excluded from the same benefits and protections as others, enduring horrific working conditions. They often cited faulty equipment and a lack of enforcement of fundamental safety standards. Injuries were common, and there were incidents of accidental deaths in 1964 and 1968. The frustration towards the city's long pattern of neglect, discrimination, and abuse of its black employees prompted the unionization of black sanitation workers who eventually led a labor strike in 1968.
The Murder of Larry Payne
Larry Payne was a sixteen-year-old Mitchell Road High School student, and one of nine children born to Lizzie Mae and Mason Payne. Like many young, African American Memphians galvanized by a new wave of social justice activism, Payne was drawn to the community-orchestrated activism ignited by the Civil Rights Movement. He along with several of his classmates participated in the March 28th Downtown demonstrations that would eventually explode into violent chaos. In this ensuing chaos, Payne was confronted by Memphis Police Department Patrolman Leslie Dean Jones, who beat Payne before pressing the barrel of a sawed-off shotgun into his stomach, firing a single fatal shot.
Officer Jones maintained that he first encountered Payne emerging from the basement of the Fowler Homes housing development holding a large butcher knife in what he assumed to be an act of aggression. This statement would be refuted by several witnesses to the killing who reported that Payne had no weapon and raised his hands above his head, immediately submitting to Jones. Despite the overwhelming testimony of several bystanders that maintained that Jones's shooting of an unarmed Payne was not provoked by any threat or criminal act, a Shelby County grand jury declined to indict him on any charges. The Department of Justice also opened an internal investigation of the incident that would further exonerate Jones, concluding that the insufficient evidence would not implicate Jones of police brutality, racial profiling, or unlawful killing.
In 2007, The Federal Bureau of Investigation opened a second review of Payne's death, which included a reexamination of police records, court documentation, and newly obtained testimony of at least three witnesses to the 1968 events. The review concluded that both pre-existing and recent evidence reaffirmed that Jones's use of deadly force when he shot Payne was necessary and justified. Payne's funeral was held at Clayborn Temple on April 2, 1968, with approximately 600 mourners in attendance. Rev. B.T. Dumas delivered an impassioned eulogy entitled "Man Is Like Grass and Is Cut Down in Various Stages of Life" but made no reference to the circumstances of Payne's murder.
I AM A MAN campaign
Historically, derogatory terms such as "boy" were used as an invective insult towards African American men. Such emasculating slurs were intended to affirm the subservience of African American men, and imply their inferior status in American society. 
The I AM A MAN signs carried by protesting sanitation workers during the 1968 Sanitation Workers Strike became the movement's defining symbol, representing the demand for recognition of their dignity and humanity. The origins of "I Am a Man" grew out of economic disparity in the workplace, among other issues, and has become a universal symbol for human rights and self-respect. It was often used as a personal statement and as a declaration of independence against oppression. Signs were printed in the basement of Clayborn Temple by Rev. Malcolm Blackburn, the church's white minister. It is believed African American Joe Warren, a founding member of the American Federation of State, County, and Municipal Employees, collaborated with Rev. Blackburn and Cornelia Crenshaw, adopting the slogan, I AM MAN from the Robert Worsham poem of the same name.