Constructing Our Future History
Looking Back to Move Forward
A stately Romanesque Revival church just south of Beale Street in Memphis, Tennessee, Clayborn Temple began life with an all-white congregation in 1892 as Second Presbyterian. After nearly fifty years of worship at the corner of Hernando and Pontotoc, the congregation relocated to the outer suburbs of East Memphis, selling the building to the African Methodist Episcopal Church for $100,000. Renamed Clayborn Temple after AME Bishop Jim Clayborn, the church became a haven and assembly point for social, cultural, spiritual, and political expressions for Memphis's African American communities. Most notably, Clayborn was the stage of the 1968 Sanitation Workers' Strike and subsequent I AM A MAN campaign. A central staging ground for the civil rights movement and social justice, Clayborn Temple itself canonizes the story of "black Memphis", embodying a rich history spanning more than a century.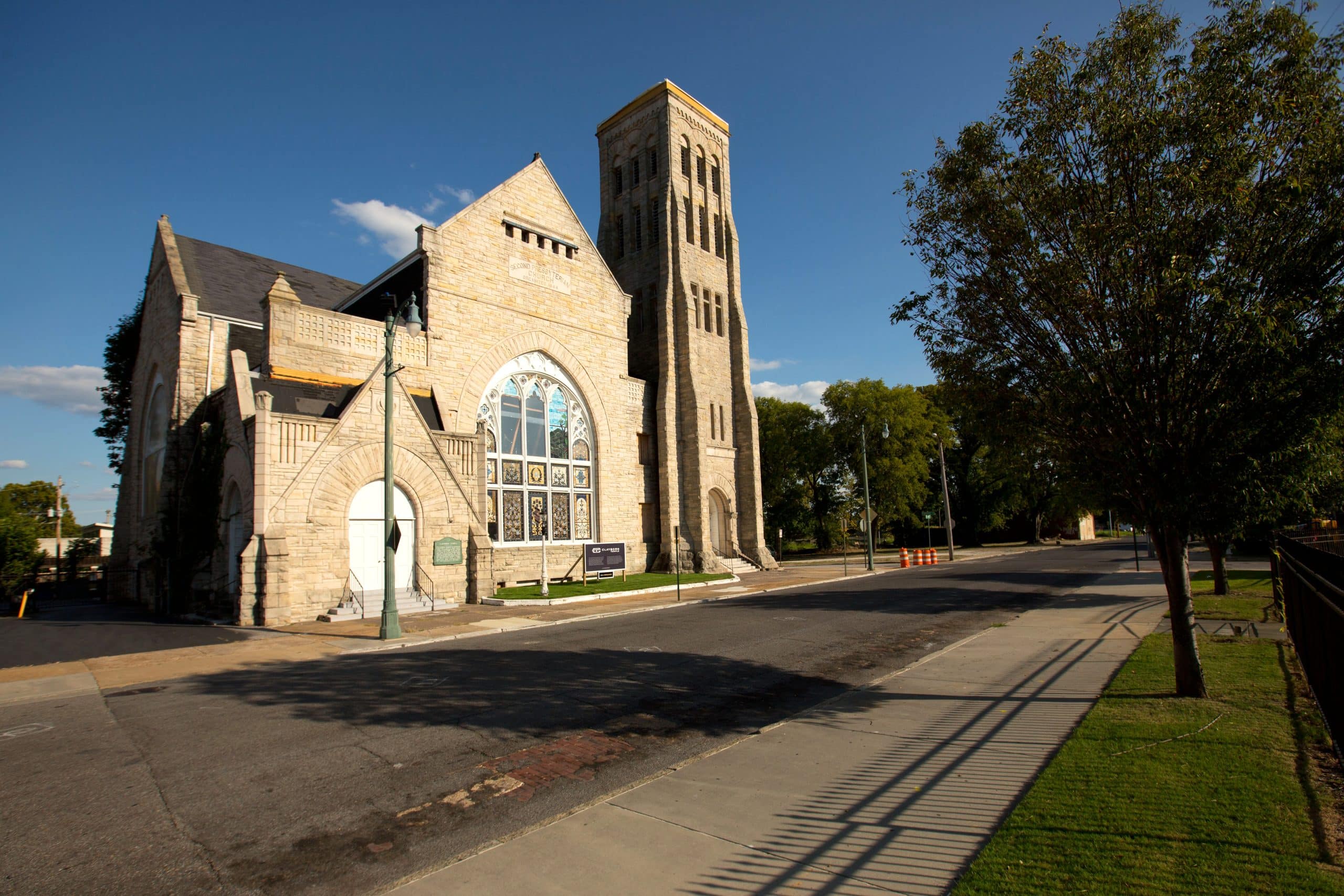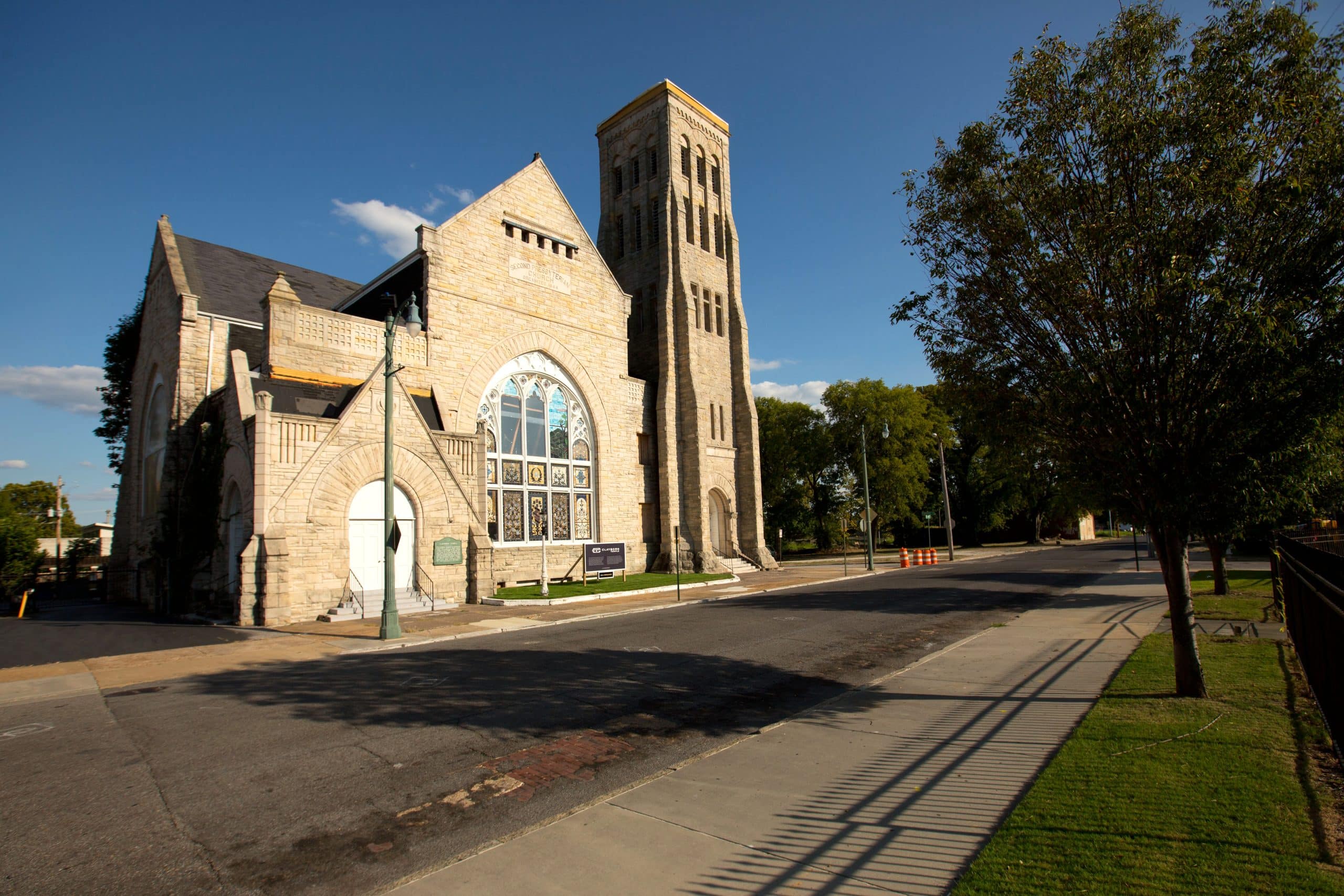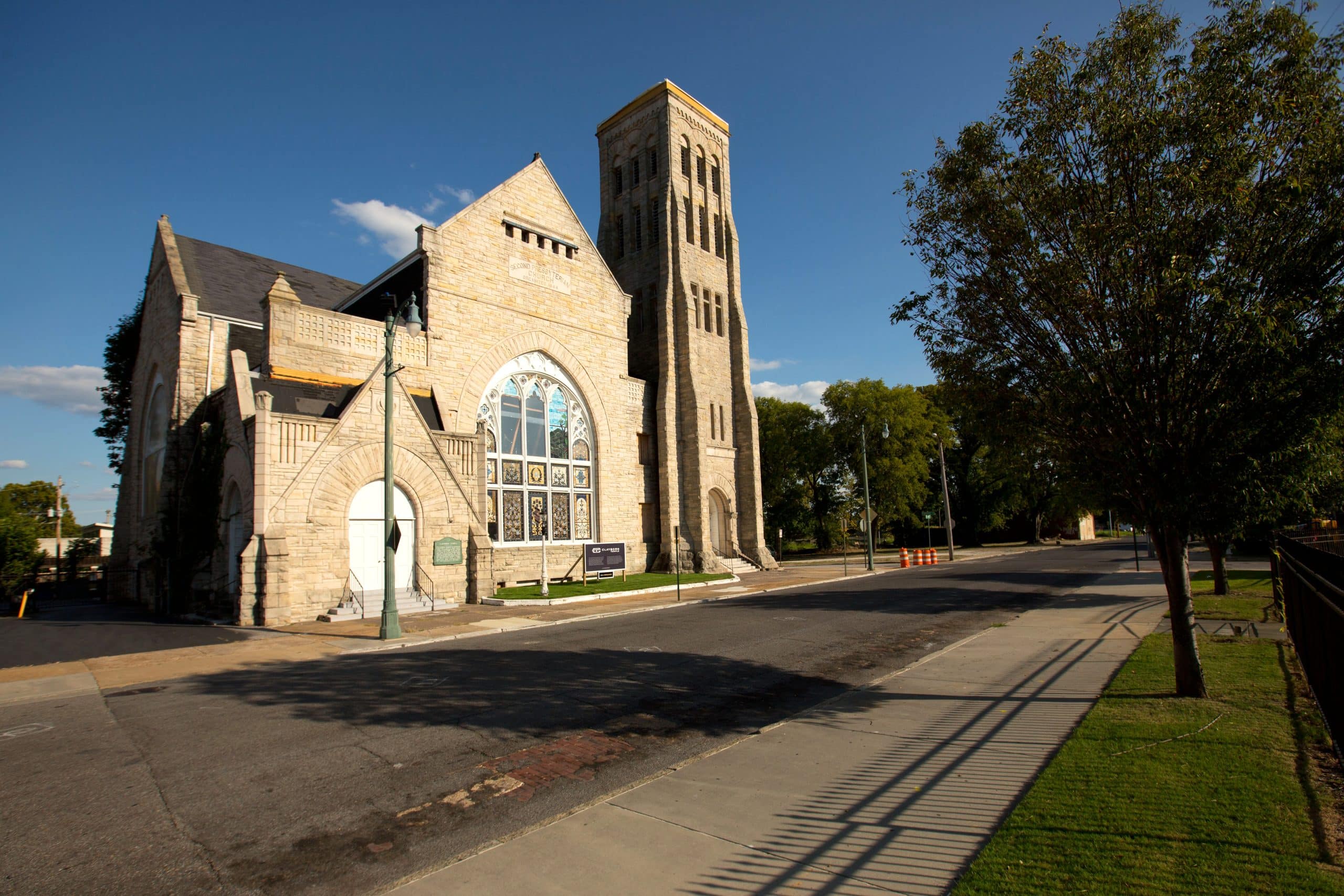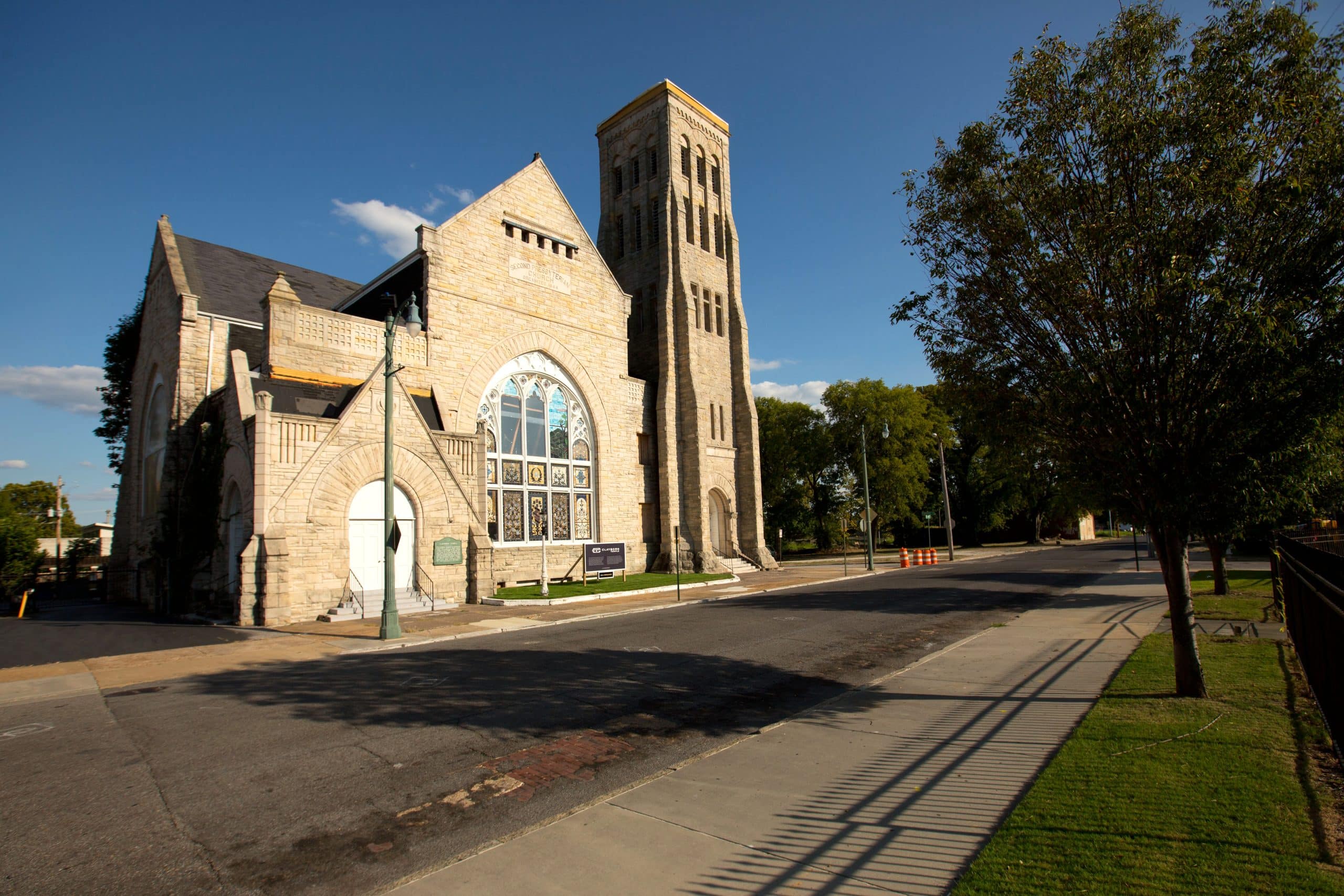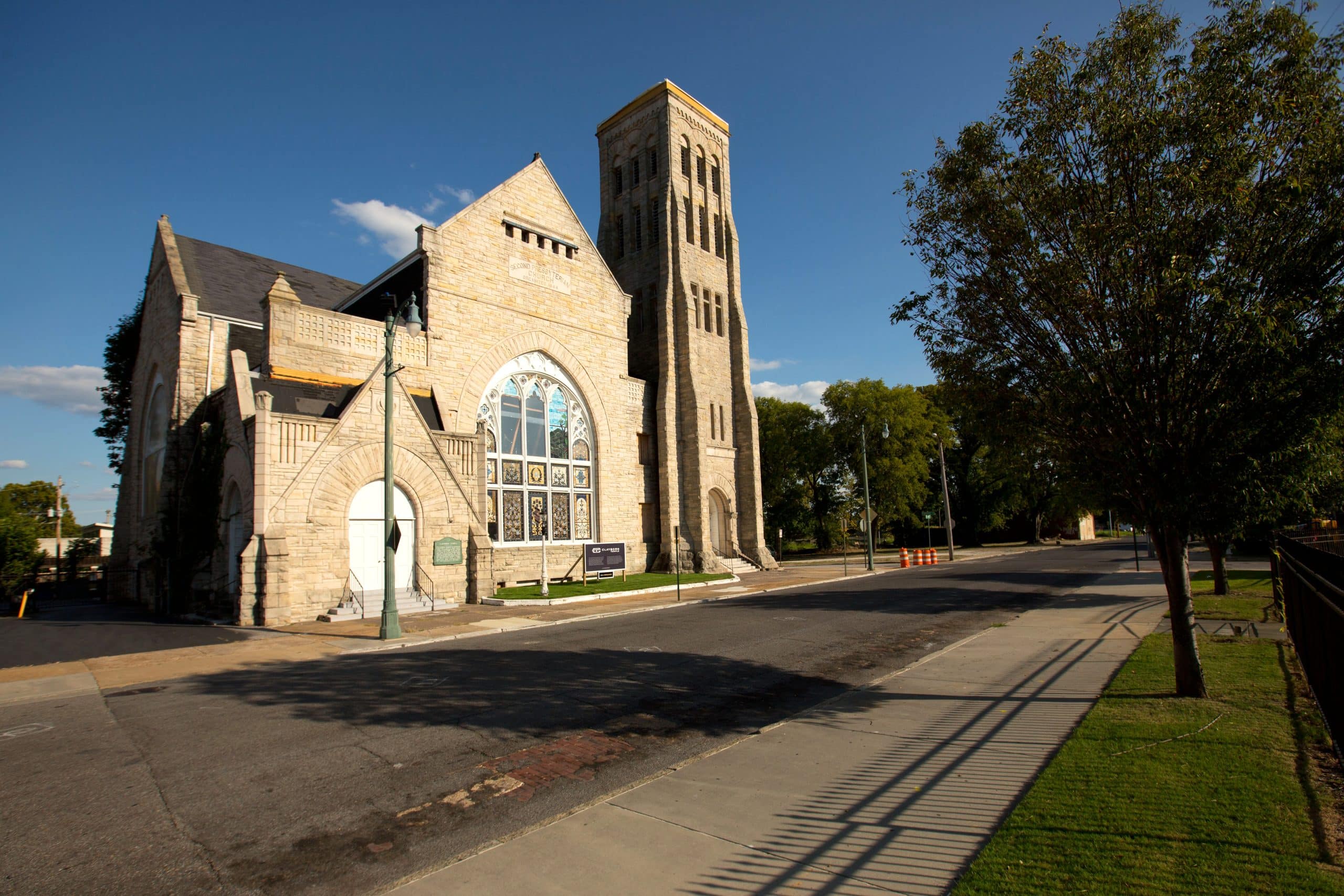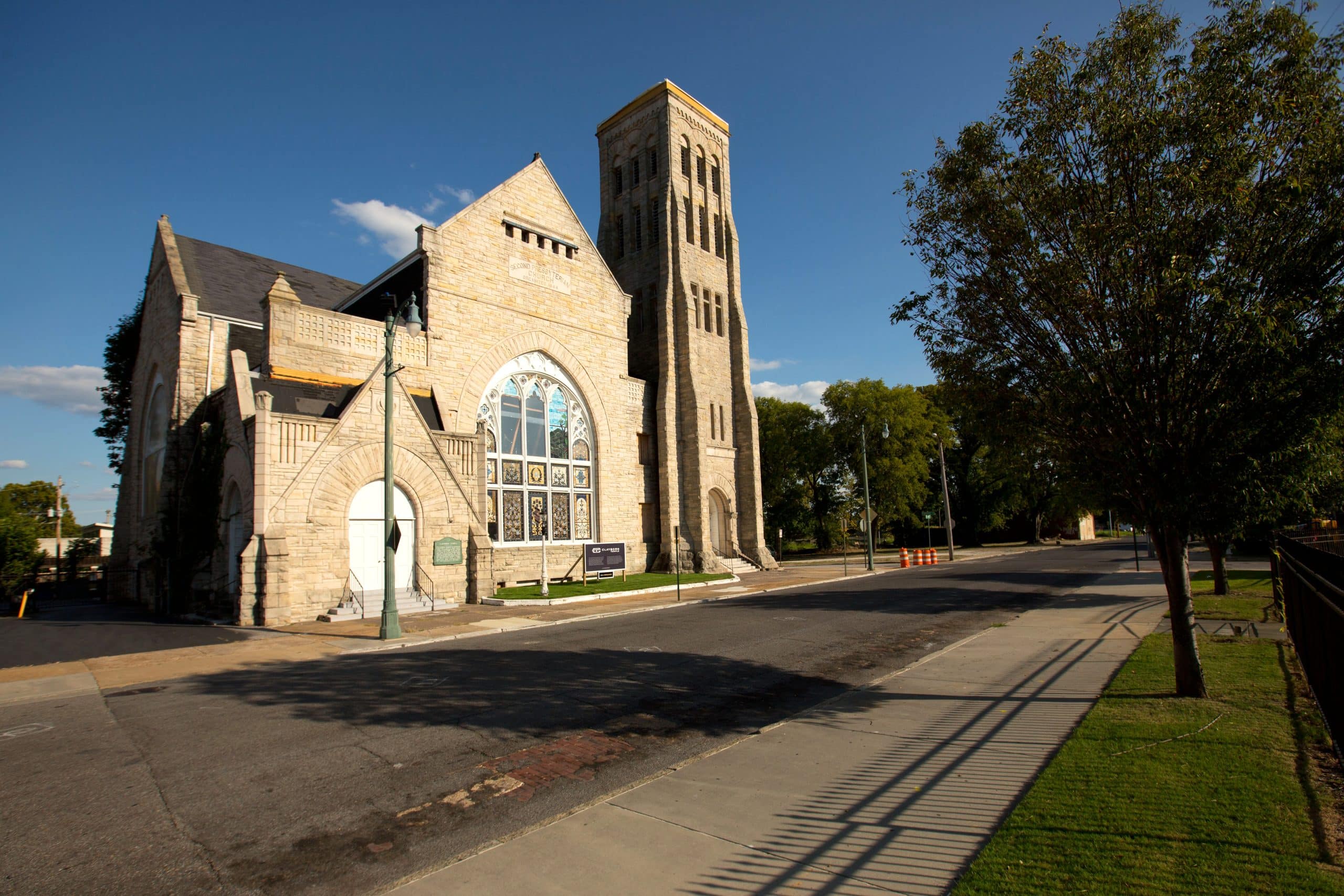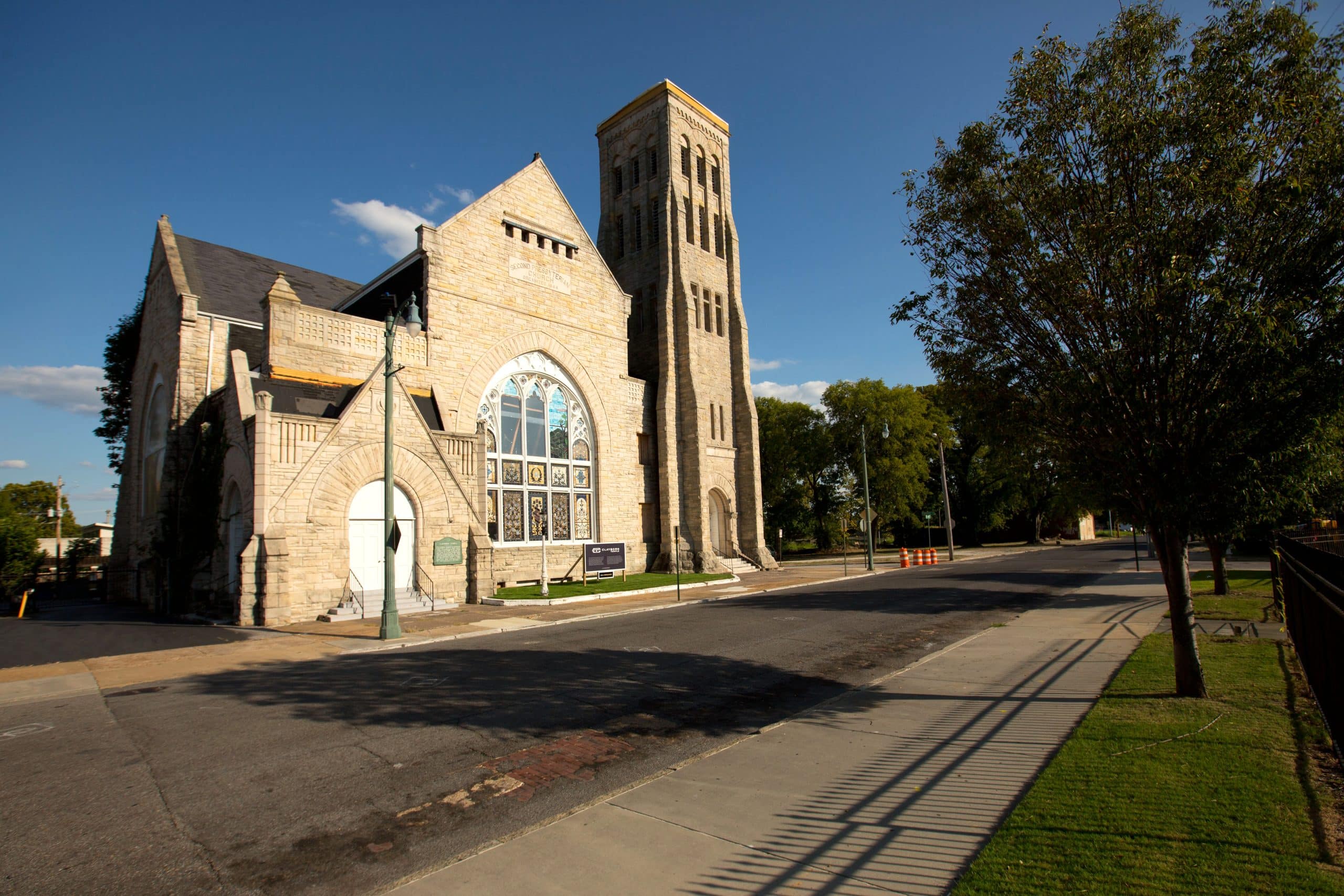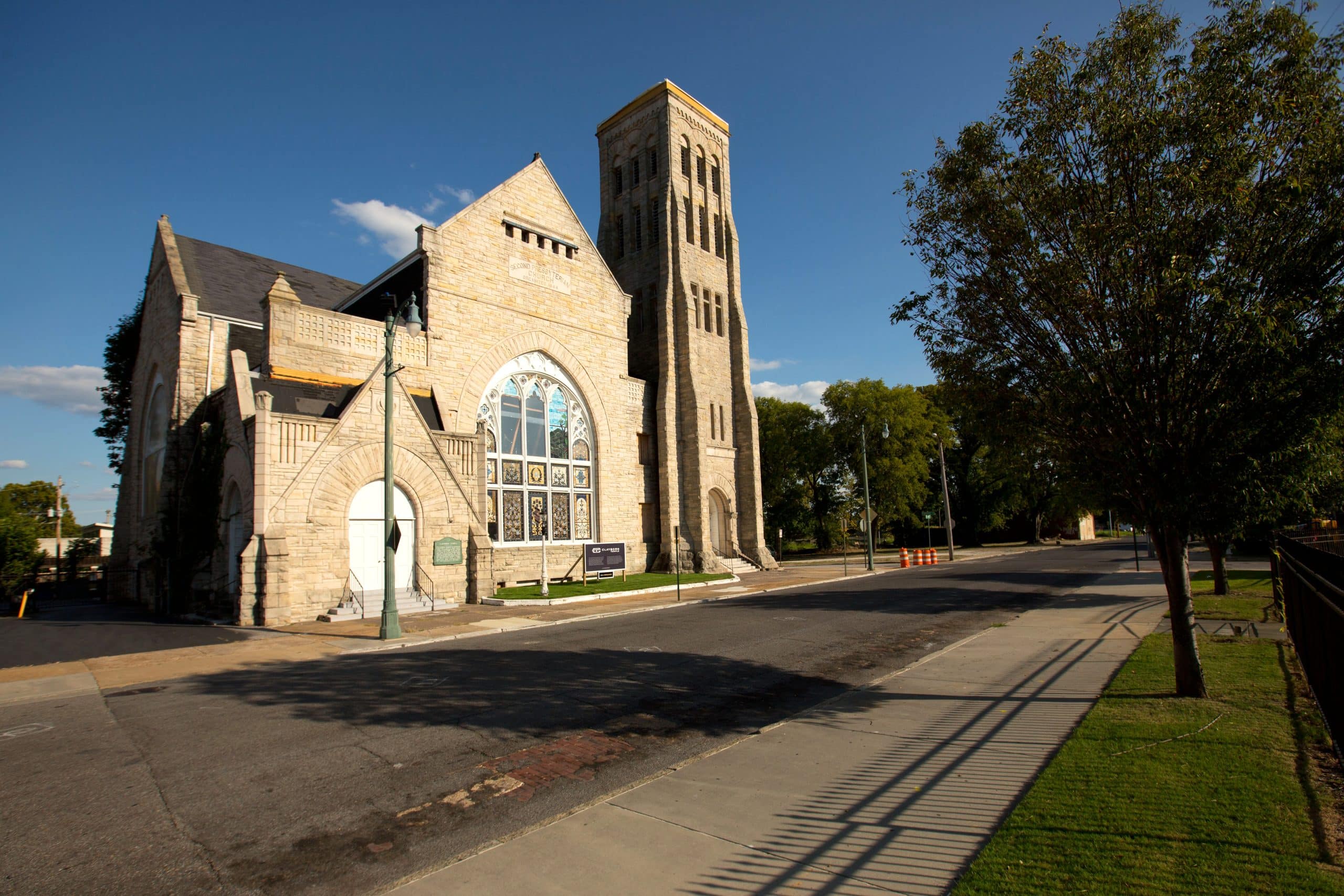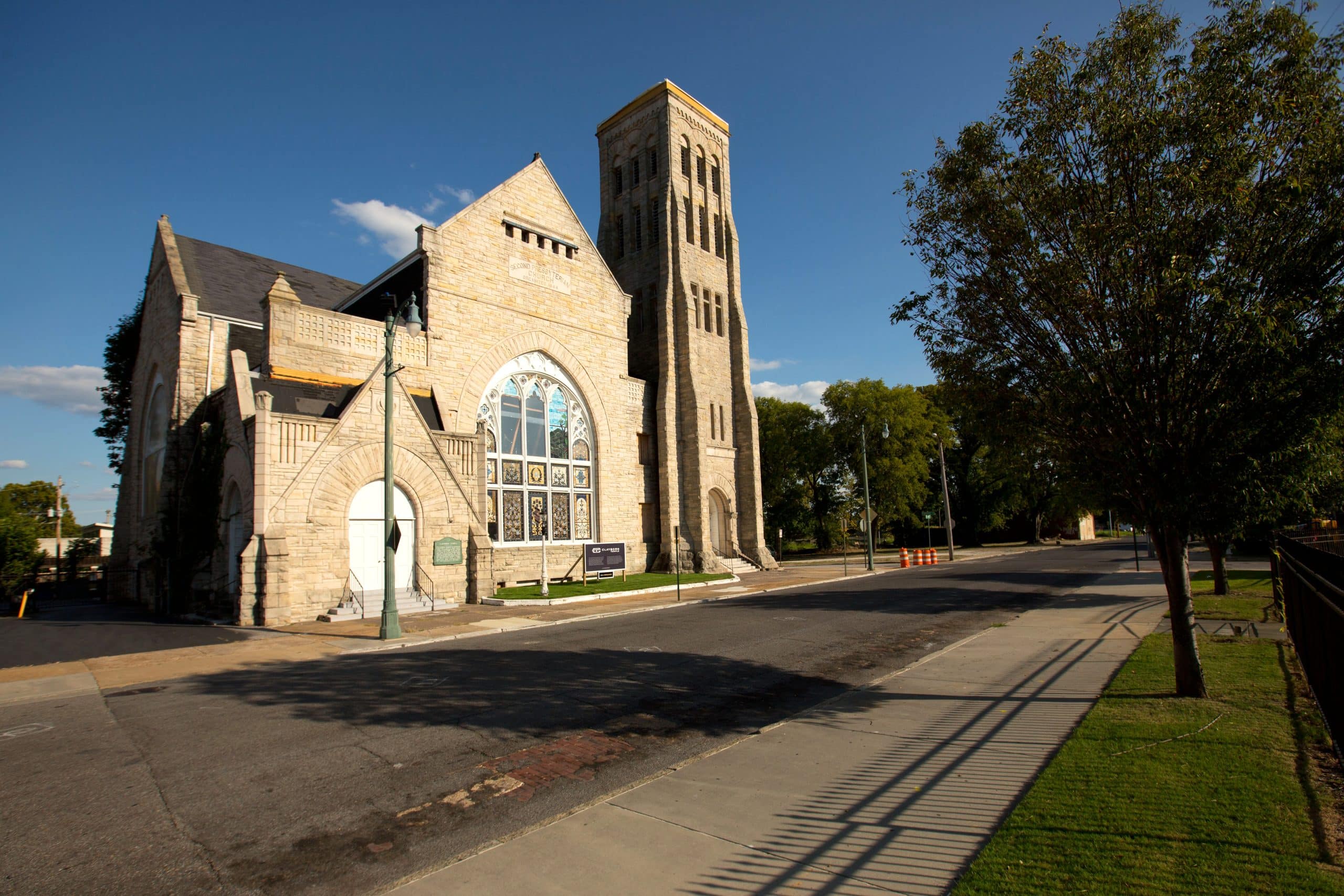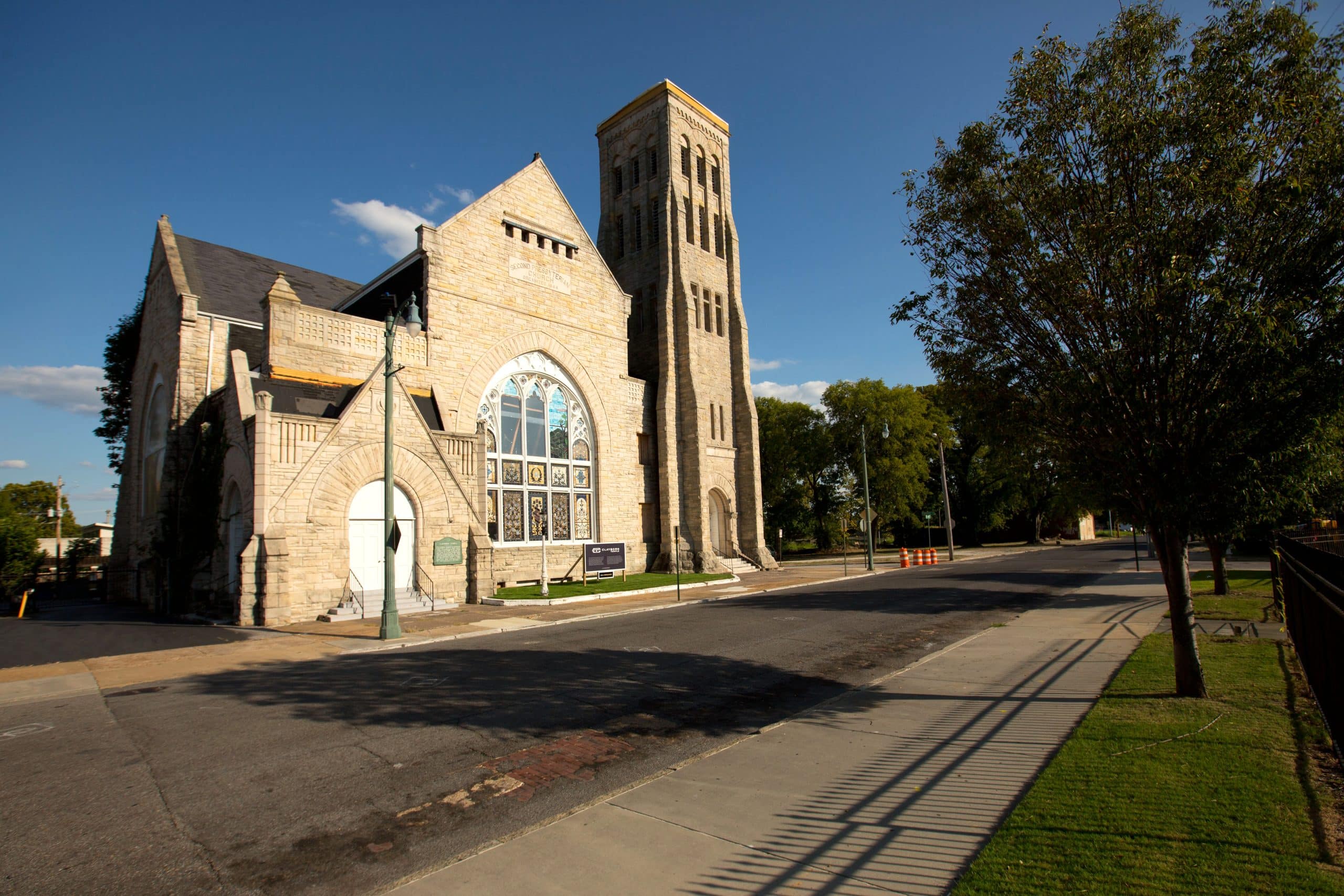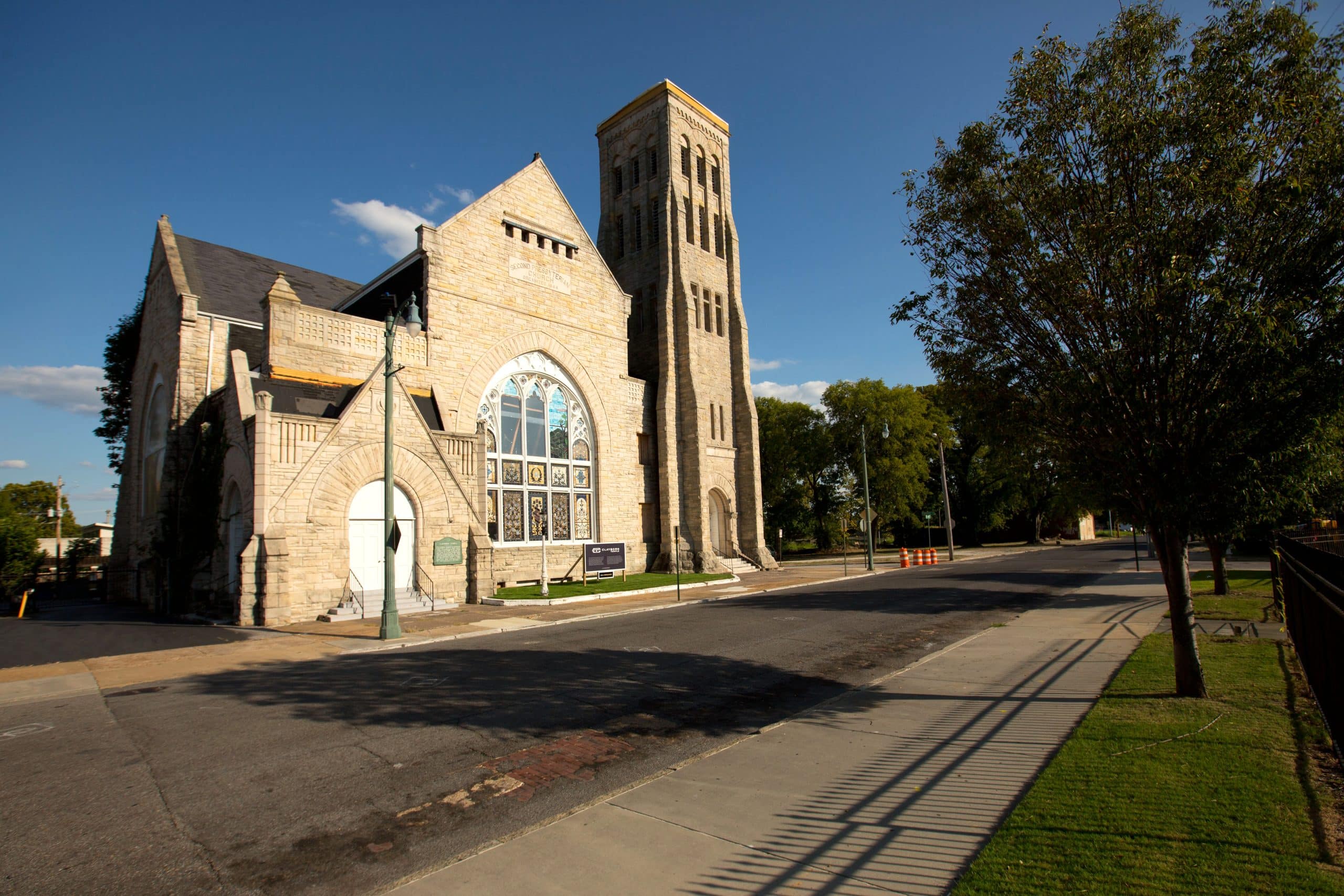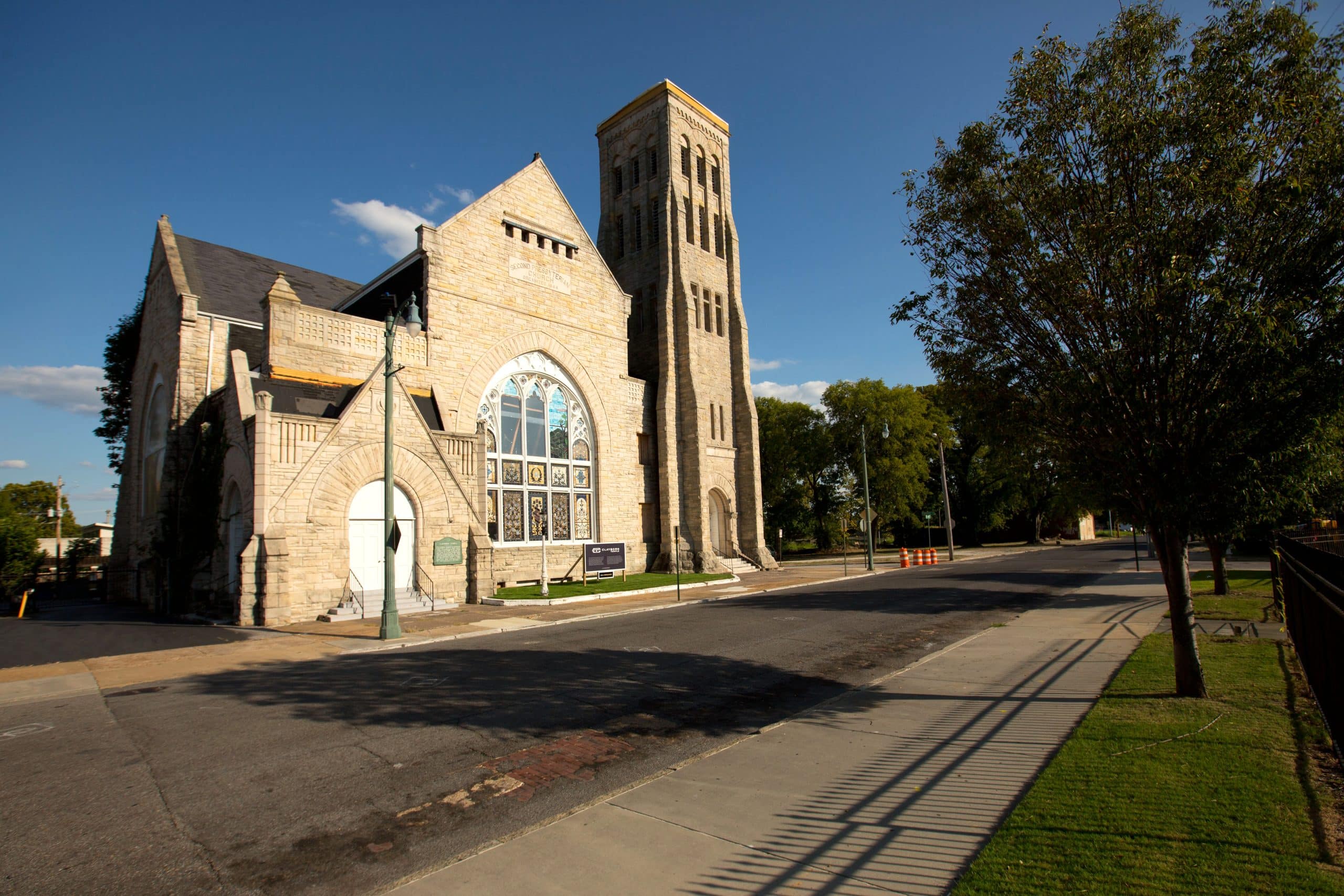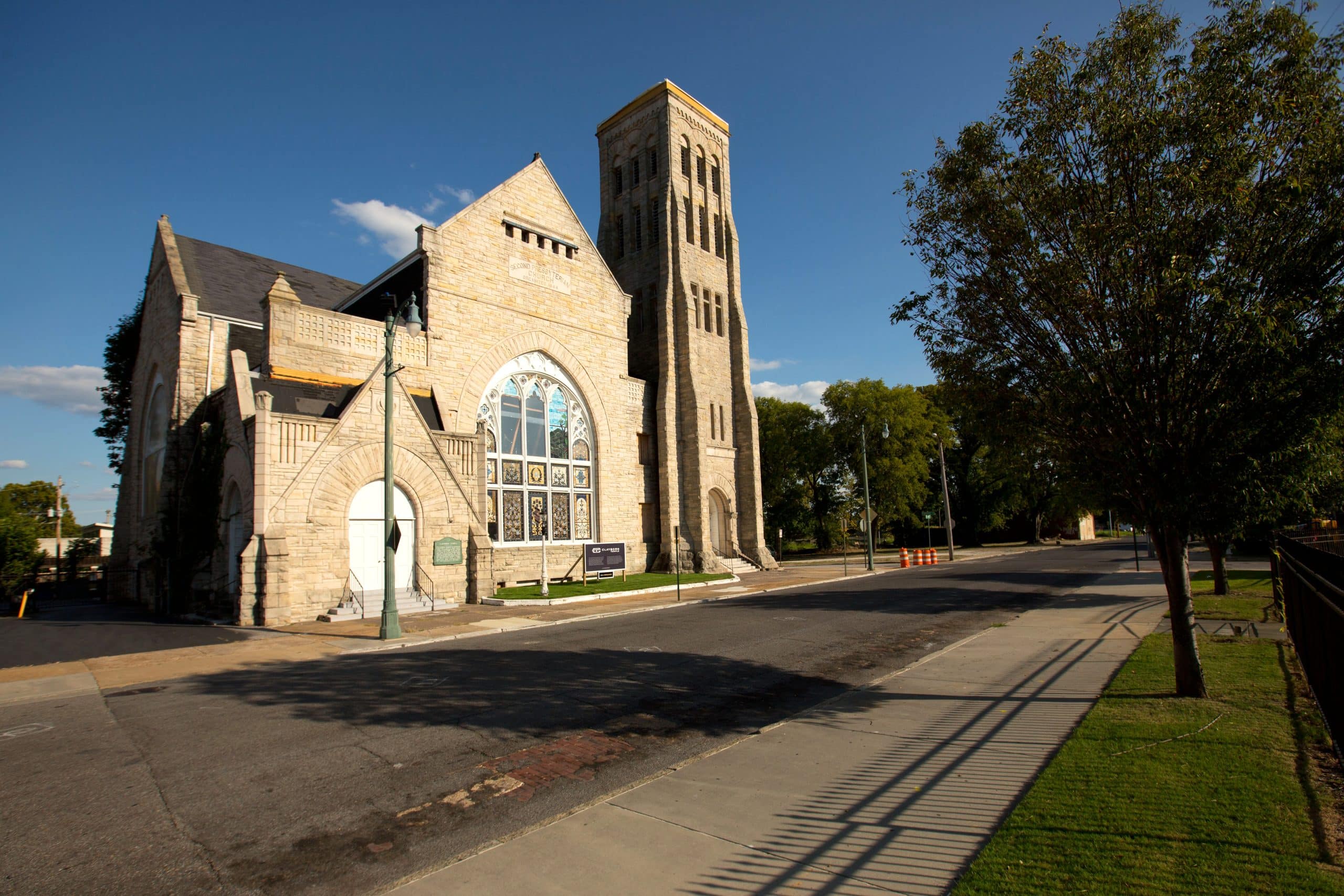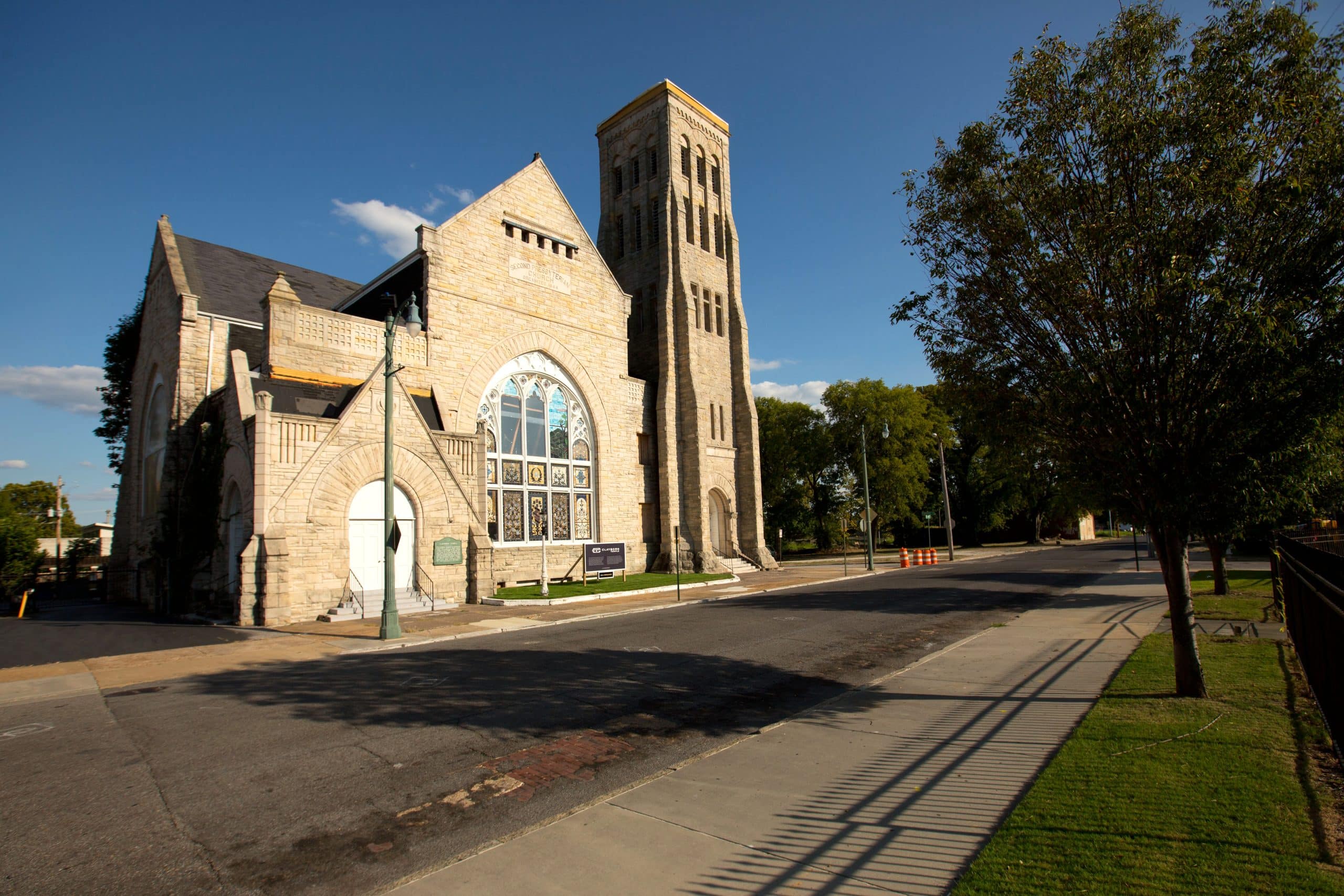 Our Historical Timeline
Take a walk through our history.
---
1968 Sanitation Worker's Strike
In the 1960s, sanitation workers in Memphis were almost exclusively African American. Memphis had a long history of segregation and classism in the wake of Jim Crow, and the evident work disparities of black sanitation employees in comparison to that of their white counterparts was indicative of the city's racial inequities. Many lived in poverty and were paid only slightly above minimum wage for a ten-to-twelve-hour workday. African American sanitation workers often took on second jobs to supplement their income or appealed to welfare and public housing.
African American sanitation workers were excluded from the same benefits and protections as their white counterparts, enduring horrific working conditions. They often cited faulty equipment and a lack of enforcement of fundamental safety standards. Injuries were common, and there were incidents of accidental deaths in 1964 and 1968. The frustration towards the city's long pattern of neglect, discrimination, and abuse of its black employees prompted the unionization of black sanitation workers who eventually led a labor strike in 1968.
---
Photo Description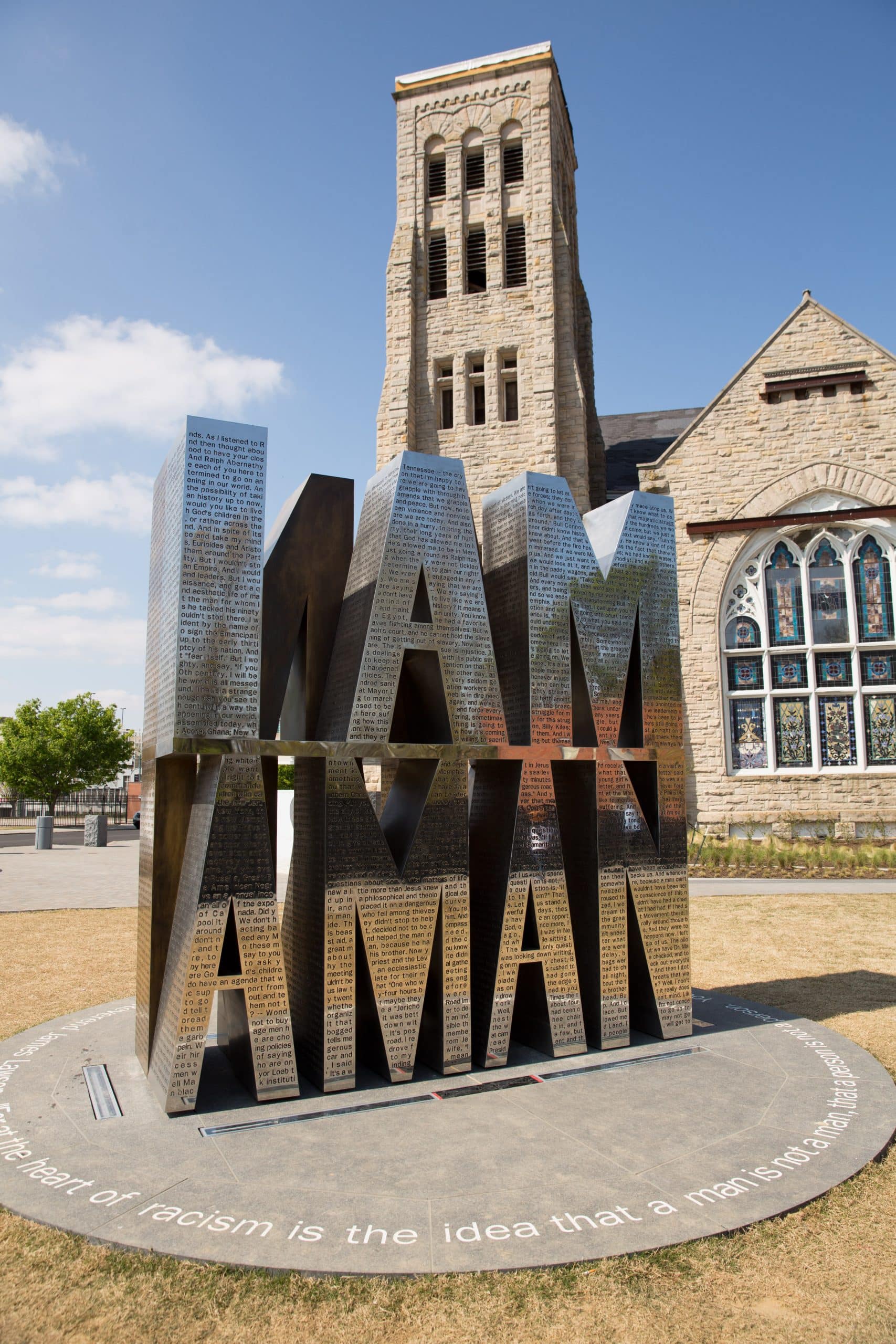 ---
---
The Murder of Larry Payne
Larry Payne was a sixteen-year-old Mitchell Road High School student, and one of nine children born to Mason and Lizzie Mae Payne. Like many young, African American Memphians galvanized by a new wave of social justice activism, Payne was drawn to the community-orchestrated activism ignited by the Civil Rights Movement. He along with several of his classmates participated in the March 28th Downtown demonstrations that would eventually explode into violent chaos. In this ensuing chaos, Payne was confronted by Memphis Police Department Patrolman Leslie Dean Jones, who beat Payne before pressing the barrel of a sawed-off shotgun into his stomach, firing a single fatal shot.
Officer Jones maintained that he first encountered Payne emerging from the basement of the Fowler Homes housing development holding a large butcher knife in what he assumed to be an act of aggression. This statement would be refuted by several witnesses to the killing who reported that Payne had no weapon and raised his hands above his head, immediately submitting to Jones. Despite the overwhelming testimony of several bystanders that maintained that Jones's shooting of an unarmed Payne was not provoked by any threat or criminal act, a Shelby County grand jury declined to indict him on any charges. The Department of Justice opened an internal investigation of the incident. Their findings would further exonerate Jones. They concluded that the insufficient evidence would not implicate Jones in either police brutality, racial profiling, or unlawful killing. In 2007, The Federal Bureau of Investigation opened a second review of Payne's death, which included a reexamination of police records, court documentation, and newly obtained testimony of at least three witnesses to the 1968 events. The review concluded that both pre-existing and recent evidence reaffirmed that Jones's use of deadly force when he shot Payne was necessary and justified. Payne's funeral was held at Clayborn Temple on April 2, 1968, with approximately 600 mourners in attendance. Rev. B.T. Dumas delivered an impassioned eulogy entitled "Man Is Like Grass and Is Cut Down in Various Stages of Life" but made no reference to the circumstances of Payne's murder.
Photo Description
---
---
I AM A MAN Campaign
Historically, derogatory terms such as "boy" were used as an invective insult toward African American men. Such emasculating slurs were intended to affirm the subservience of African American men, and imply their inferior status in American society. The I AM A MAN signs carried by protesting sanitation workers during the 1968 Sanitation Workers Strike became the movement's defining symbol, representing the demand for recognition of their dignity and humanity. The origins of "I AM A MAN" grew out of economic disparity in the workplace, among other issues, and has become a universal symbol for human rights and self-respect. It was often used as a personal statement and as a declaration of independence against oppression. Signs were printed in the basement of Clayborn Temple by Rev. Malcolm Blackburn, the church's white minister. It is believed that Joe Warren, and African American, a founding member of the American Federation of State, County, and Municipal Employees, collaborated with Rev. Blackburn and Cornelia Crenshaw, adopting the slogan, I AM A MAN from the Robert Worsham poem of the same name.
Photo Description
---
---
T.O. Jones
Thomas Oliver Jones (known as T.O. amongst family, friends, and colleagues) proved instrumental in the early stages of the 1968 Sanitation Workers' Strike. He would maintain a leading position in the origination of union activity amongst African American municipal employees. Jones himself had been employed as a sanitation worker in the City of Memphis in the early 1960s and experienced the prevalent nature of racial disparities and prejudice in the Memphis Public Works Department first-hand; including a lack of enforcement of basic safety standards and unequal wages. After a failed attempt to organize a union in 1963, he and 32 other employees were dismissed from their positions. Following his termination, Jones would fully invest his efforts into the arena of the labor rights movement. He continued to agitate for unionization. Becoming a representing figure in Memphis's African American and public works community, Jones actively worked against the city's neglect, abuse, and exploitation of its black employees. Though Jones had successfully formed Local 1733 of the American Federation of State, County, and Municipal Employees (AFSCME) in November 1964, the city officials refused to recognize the union. Still, even without formal accreditation, Jones in his capacity as AFSCME president continued to gain concessions for workers and advocate for economic justice throughout the duration of the strike.
Photo Description
---
---
The Invaders
The Black Organizing Project (BOP), also known as the Invaders, ushered in a new era of civil-rights activism in the city of Memphis. Founding members included Coby Smith, an honors student and one of the first two black students enrolled at Rhodes College; Charles Cabbage, a Morehouse College political science graduate; John Smith, a military veteran; and Calvin Taylor, a University of Memphis journalism graduate. While the organization (exclusively comprised of African American males) was passionately dedicated to the improvement of black communities. They were simultaneously critical of the mainstream civil rights movement. Inspired by leaders of the black liberation movement, the Invaders endorsed the tenants of nationalist ideology and separatism. The organization rejected the cautions of black ministers and the perspectives of leading integrationists who advocated for racial equality and cooperation. Rather, the Invaders aligned their own practices and principles with Black Power. During the 1968 Sanitation Workers' Strike, the characterization of the group was vilified as that of radical militants with extremist and likely violent intentions. However, the Invaders were an intellectual and organized collective embodying the integrities of self-determination, racial pride, and justice. Following the aftermath of the March 28 demonstration (which resulted in 280 arrests, 60 reported injuries, and one fatality), members of the Invaders discreetly meet with Martin Luther King Jr. While sharing countering social ideas and definitions of justice, all parties shared a common aspiration for progression and success for black Americans.
Photo Description
---
---
Cornelia Crenshaw
A heroine of the Civil Rights Movement, Cornelia Crenshaw was a leading figure in Memphis's early racial justice initiatives, a proponent of worker's rights, and a pioneer of the Energy Justice movement. Crenshaw was employed by the Memphis Housing Authority for approximately 27 years but was fired in 1964 for vocalizing her positions on unionism, economic equity, and labor rights. The termination would transition Crenshaw into a life dedicated to social activism and political advocacy that earned her the title, "The Mother of the Civil Rights Movement in Memphis." Crenshaw was appointed to the strategic committee for the historic Memphis Sanitation Workers' strike in 1968. As an instrumental influencer and organizer in the campaign, she would maintain an active role in the coordination of the protest and was a fixture at City Council meetings. As African American sanitation workers assembled a strike protesting the city's racial disparities and refusal of union recognition, she would organize community efforts that supported the workers and their families while they were without income. Most notably, it was Crenshaw who would adapt the Robert Worsham poem I AM A MAN, to the infamous rallying cry for the strike as the movement's defining symbol, representing the demand for recognition of their dignity and humanity.
Photo Description
---
---
James Lawson
James Lawson was a leading activist and tactician of nonviolence during the Civil Rights Movement. As a mentor to the Nashville Student Movement and the Student Nonviolent Coordinating Committee, Lawson was instrumental in galvanizing youth participation in several civil rights campaigns. While enrolled at the Divinity School of Vanderbilt University in Nashville, Tennessee, Lawson served as the regional director of the Congress on Racial Equality (also known as CORE), an African-American-led political organization that was instrumental in orchestrating several social justice and civil rights demonstrations. In this role, he conducted several training workshops in conjunction with the Southern Christian Leadership Conference, teaching students the theory, philosophy, and a variety of tactics behind nonviolence direct action as a counter approach to respond to the violence they themselves would confront. Lawson's teaching had evolved from the same ideals of pacifism encouraged by Dr. Martin Luther King Jr. which sought to apply the principles of nonviolence as a tactic against racial segregation. Lawson's students would go on to participate in such campaigns as the Freedom Rides, the March on Washington, Freedom Summer, and the Children's Crusade.
Despite these peaceful efforts and campaigns, the Vanderbilt officials were incensed with Lawson's association with CORE, and he was expelled from the university in March 1960. Several students protested Lawson's dismissal by picketing in front of Kirkland Hall, the school's administration building. Meanwhile, Lawson, along with at least seventy other participants, were arrested on charges of conspiracy and obstruction for organizing sit-ins at local public businesses and institutions.
Relocating to Memphis after his expulsion from Vanderbilt, Rev. Lawson became pastor of Centenary Methodist Church in Memphis in 1962. During the 1968 Sanitation Workers' Strike, he served as chairman of their strike committee, eventually co-founding the Committee on the Move to Equality (COME).
Photo Description
---
---
The Church Family
The product of an interracial union, Robert R. Church Sr. was the only child born to steamboat captain, Charles B. Church, and an enslaved woman known only as Emmeline. Church was raised in Mississippi, but relocated to the South Memphis area sometime in 1965 with his wife Louisa. Both Robert and Luisa found success as entrepreneurs, opening a string of businesses including beauty parlors, a saloon, a restaurant, and a downtown hotel. The Church family enterprise was centered on the foundations of the city's African American economic and community development. Perhaps Church's most impressive acquisition of the time was the purchase of a tract of land on Beale Street where he landscaped the surrounding grounds and erected the Church's Park and Auditorium, the first major urban recreational center in the nation owned by an African American. Valued at $100,000 when built, Church's auditorium seated more than 2,000 people and became a renowned cultural, recreational, and civic center for black Memphians. For the next twenty years, the Church family will continue to build its real estate enterprise by purchasing several residential homes and commercial spaces throughout the city's African American neighborhoods. By the early 1900s, the agency of the Church family extended to several other business ventures including the founding of Solvent Savings Bank and Trust, the first African-American-owned bank to achieve $1 million in assets.
Photo Description
---
---
The Organ
In 1892, J.W. Steere and Sons built and delivered a three-manual and pedal, 38 voice pipe organ to Second Presbyterian Church in Memphis. However, unlike other Steere organs built that year, the Opus number is unknown. Currently, there are no known records containing the original specification of the organ, or that provide any detail related to the significant amount of rebuilding done by the Austin Organ Co., of Hartford Connecticut.However, upon professional assessment, some specifications of the organ have been identified and further researched. The organ is known to have been installed at Second Presbyterian Church, Memphis, in 1892. At the time of its installation, the Steere organ was one of very few pipe organs known to exist in Memphis. It was by far the largest organ in the city and certainly one of the largest in the upper southern region of the eastern United States. It would also have been one of the most modern as it appears that the organ was equipped with the latest in available technologies.
Photo Description